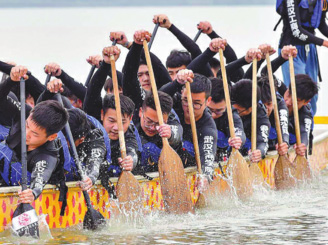 Cultural tourism and regional events are helping to raise the profile of traditional festivals
Dragon boat racing, a traditional activity celebrating Duan Wu, also known as the Dragon Boat Festival, is enjoying a revival thanks to the popularity of rowing events and cultural tourism.
The sport originated in Zigui county of Yichang city in Hubei province. This was home to Qu Yuan, a poet in the Warring States Period (475-221 BC). The festival, allegedly, commemorates his death.
Over 2,000 years the race has developed into a sports event. It has now attracted younger generations-college students, for example-to join, breathing new life into the historic custom.
Ma Dikai, a 20-year-old student from Wuhan Technology and Business University in Hubei, said that he has been training to compete in the race since April 2018.
The game is welcomed by my peers. For us young people, the team game is good for both our physical and mental health. We are not only trained to be strong but united with other people, he said. Also, it's a good way to experience the traditional Chinese culture.
However, it's not an easy task to build a solid dragon-shaped boat or join the sport as a rower.
Fan Jun, sports director with Zigui's culture and tourism bureau, said that he has been engaged in organizing dragon boat races since the early 1990s.
We build the hull using traditional techniques, which is called mortise and tenon, he said. Then the carpenters shape the boat into a dragon with a high-raised head and wagging tail. Exquisite scales are also important for a lifelike dragon.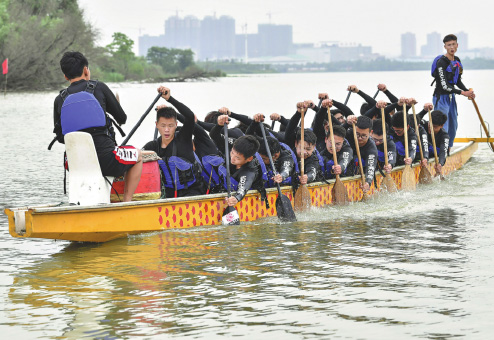 [Photo by LI HUI/FOR CHINA DAILY]
According to Fan, the traditional wooden dragon boat is about 15.5 meters long with a width of 1.1 m.
The length totals 18.4 m including the dragon's head and tail. It can hold a drummer, a boatman and 20 rowers in the competition, he said.
The dragon boat race is thrilling for the crowd who watch the boats navigate the raging river and who can hear the rowers' shouts. Traditionally, the winners will be treated as heroes by the locals and visiting audience.
Zigui was named as the hometown of the Chinese dragon boat by the General Administration of Sport back in 2011 for its well-preserved boat racing traditions and involvement in organizing rowing competitions.
The county, rich in history and folk customs, has been developed into a popular destination for travelers. In 2017, Zigui was honored as one of China's most beautiful filming locations at the 74th Venice International Film Festival.
[Photo by LI HUI/FOR CHINA DAILY]
The county also registered a travel boom last year with about 9.4 million tourists having visited and 13.3 billion yuan ($2 billion) of tourism-related revenue created, according to the county-level government.
Zigui was ready for the Duan Wu Festival that fell on June 7 this year with a culture-themed event.
Wan Dan, the county's deputy head, has introduced a competition on wrapping zongzi, a traditional food made of glutinous-rice and other ingredients. It was held in addition to a dragon boat race and a poetry exhibition.
It's the 10th anniversary since Duan Wu customs was added to UNESCO's Representative List of the Intangible Cultural Heritage of Humanity. The festival is a cultural, sports and cuisine gala for people from home and abroad, she said.
chengsi@chinadaily.com.cn